Closing Read Mar 19, 2012
Primary trend = TRANSITIONING TO UP
Number of days = 5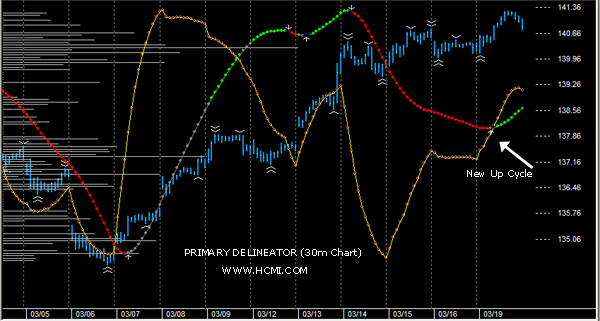 We knew on Friday that if signal weight opened moderately positive today that a new up cycle would be identified on the Primary (shown above). We also knew that the Secondary, the daily trend, was in a position to identify a new up cycle now as well.
The Secondary was not in a position to turn up when the Primary identified the last up cycle on March 7th that took SPY from under 135 to just over 140. By the 13th, the Primary was overextended at +10,800 and had no where to go but down. That down cycle ended this morning at 11:30 and for most of the day, both the Primary and the Secondary had identified new up cycles, a rare in-sync event.
But, the Secondary did not close up, due to exogenous factors (the rumor mill) that reduced signal weight just enough to keep it just fractionally down. However, it will very easily turn up on Tuesday given only modestly positive signal weight. (Secondary, shown below)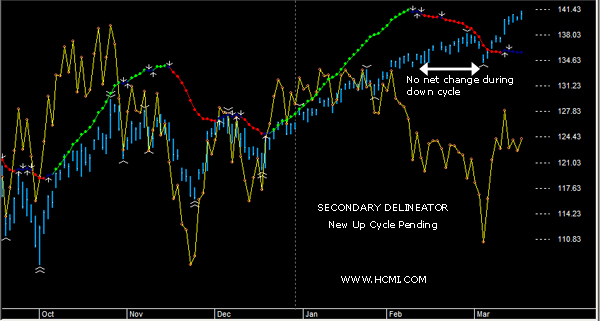 Assuming the new up cycle on the Secondary confirms this week, our targets for SPY take it back to the pre-crisis highs in the 150 range as I have already mentioned in posts here on the ETF Digest starting on Feb 7th.

With both Delineators in sync, price should easily rise into the mid 140 level over the next week. Downside risks here continue to be well contained. As we have been posting on the Delineator Journal website, portfolio positions remain long from Dec 21, 2011, where the previous up cycle on the Secondary began.
=========
I write the Delineator Journal throughout the trading day to assist new users in learning the disciplines behind the Delineator and Accumulator software programs. Both of these software programs are non-price based indicators and are predictive of price. If you would like access, please send me an email to This e-mail address is being protected from spambots. You need JavaScript enabled to view it . It's a good way of seeing what we're doing and it's free.
=========
Delineators In Sync: An Acceleration in Trend has
(0) comments
Add Your Comment