Another holiday week moves Thursday to "midweek".

Once again, Greek bailouts dominated the media this week with the markets euphoria significantly shorter that the duration of the story. And, once again, we see the follow-up being the bailout is inadequate and the Greek people in a state of rage. Greece is about to overtake "Rocky" in greatest number of sequels.
Next, the cameras were refocused on Iran and the sound of war drums shoots the price of oil to a nine month high. Meanwhile, back at the ranch in the U.S., a very light calendar of economic data this week provides little market moving incentive. This morning's unemployment numbers come in as a "beat" but actually show no change.

Apple (AAPL) is the "nothing-else-to-talk-about" story on the financial channels reaching new highs as fund managers clamber to obtain this "must have" new asset class. AAPL had become 20% weighting of the Nasdaq 100 (QQQ) and most technology ETFs creating a dangerous imbalance. Rebalancing of indexes as of January 31st has altered the holdings of many ETFs. A prudent move would be to check the holdings in your current ETF positions to see if you actually own what you "think" you own.

Top performers this week
News events have had short duration impact on the overall market and it has generally stalled at the May 2011 resistance. The Dow 13,000 story was of little significance. Traders flock to whatever the "hot" commodity de jour happens to be.
This week it was oil on the drum beat of war between Israel and Iran and last week's selling of gold brought in buyers this week. Natural Gas had a yearlong downward spiral that took the price so low that it simply had to be bought on the extreme oversold condition. Volume across the board has been very light indicating a "wait and see" investor sentiment

New Highs
Yield hungry investors move from position to position as holdings move into overbought conditions. Each move becoming less desirable than the previous as the market is in an overbought condition.


New Lows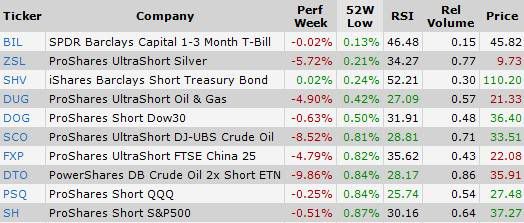 Naturally, as equities have drifted higher, their inverse positions have hit new lows. By the relative volume, this indicates that these positions are in more of a meltdown rather than a significant selloff.
Further, since we see selling exhaustion in the inverses, there is less likelihood for a short squeeze situation to occur. On the other hand, the relative volume shows us that these inverse positions are not yet being accumulated in anticipation of a selloff. Other than the Nasdaq 100 inverse, none of them are into extreme oversold conditions.

Unusual Volume
The bulls and bears have chosen the VIX as their early battleground. Volatility is the preferred hedge against market decline now. Even with minor losses in leveraged VIX positions (UVXY, TVIX), traders have been accumulating these positions over the past weeks for their potential 50% gains that could occur in a very short time frame. Homebuilders had a significant run. However, rebalancing of these indexes has made these positions less desirable and traders have been selling over the past week.
We'll have to see if they can find support with the new, less desirable holdings in these ETFs. For the Dow Theorists, the transportation average has rolled over and the 50 day moving average support appears to be in jeopardy.

Overbought

Overbought, especially in the high yield positions, become last week's news and the issues on this table swap back and forth with the issues on the New Highs table. High yield in this overbought market has become a game of musical chairs.
Once an issue hits its 52 week high, investors look for the next high yielding position with some upside capital gain potential. Apple drove the entire technology sector into overbought conditions as well.

Oversold
With Apple stock being the latest "iGottaHaveIt", the Nasdaq inverses are all oversold. Naturally, the same is true with oil inverses as oil hits new highs. For FOREX traders, oversold conditions on the Yen may be something you'll want to keep a close eye on.

Trending Up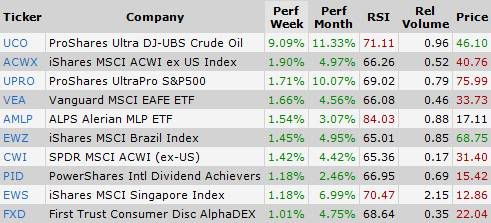 Oil, yield and the S&P mega bull are no surprises on this table. What is important to note, is the shift into emerging markets—especially Brazil (EWZ) and away from U.S. markets (ACWX, CWI, and PID).
Consumer discretionary on this table should not be misread - these are the ultra high-end retailers and are by no means a reflection of the average consumer.

Trending Down

Several issues on this table appear to be in conflict between performance and trend. This gives us some interesting insight. Although we've had a significant short term move in natural gas and gold, it hasn't been enough to reverse their downward trends. Also of particular interest is Brazil Small Caps (BRF). Small caps often outrun the large caps (as we see in the preceding table with EWZ). Once these small caps hit the overbought condition, traders have sold and moved into the large cap Brazil positions.

In summary, the market has developed a pattern of being sold at the open and getting bought back at midday (mostly by the courtesy of "Operation Twist"). There has been some disappointment that the 2:15 PM buy programs haven't given traders the dead sure-end of day gains. Thus, volume is virtually non-existent. The wait-and-see crowd is showing some impatience for a market move off this week-long stall, despite intraday fluctuations. Markets can remain overbought for extended periods. Even thought markets have short memories, there are many investors with vivid memories of the sting of last August's selloff and gigantic losses in 2008. I sense they are sitting with their finger twitching on the sell trigger.

Follow my intraday market commentary and various other observances on Facebook and Twitter

ETF Midweek Peek: February 23, 2012 has
(0) comments
Add Your Comment