As the old saying goes, nothing risked, nothing gained. What's true in day-to-day life holds true in the investment world as well.
Emerging markets can provide excellent returns, but they come with higher risk, so what's one to make of an emerging market like South Africa which has offered excellent performance since the market bottom in 2009?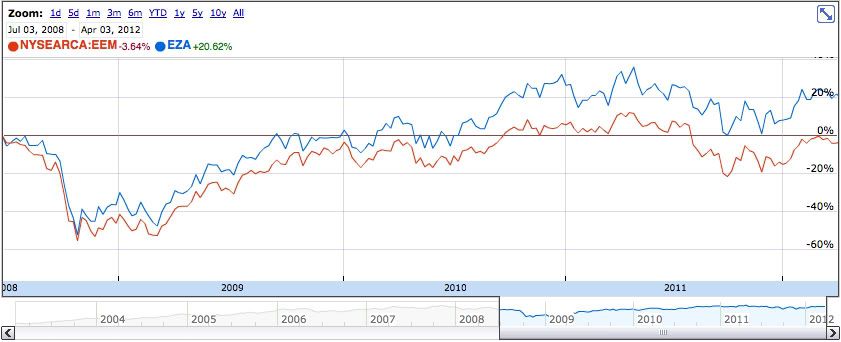 Compare EZA's performance with the iShares MSCI Emerging Markets Fund (EEM) since the market drop in 2008-2009. Although South Africa is EEM's 5th largest country allocation at 7.59%, it has outperformed EEM by a significant margin.
The iShares MSCI South Africa Index (EZA) can provide risk-tolerant investors with exposure to this quickly expanding market, provided they're comfortable with higher volatility. South Africa is the largest economy in all of Africa, and one of only four African nations that the World Bank has classified as an upper-middle income country (along with the much smaller Botswana, Gabon, and Mauritius).
The first thing that may come to investors' minds when they think of South Africa might be mining, and for good reason. In spite of declining production, gold still accounted for $3.8 billion in exports as recently as 2005. South Africa is the world's largest producer of platinum, accounting for an astounding 80% of world production, and the second largest of palladium (after Russia) with 40% of global production. The country also exports significant quantities of diamonds.
For once a country-specific ETF's composition bears out its mining activity. EZA's top three sector allocations are Financials at 26.16% followed in a close second by Materials aka mining and extraction (21.56%) and Consumer Discretionary (14.74%). Three of EZA's top holdings are involved in mining: Anglogold Ashanti LTD (5th, at 4.98%), Gold Fields LTD (6th, at 3.57%), and Impala Platinum Holdings LTD (7th, at 3.51%).
Still, EZA's largest company allocation has nothing to do with Finance or Mining; in fact it's African telecommunications giant MTN Group LTD with a 10.02% allocation. It's worth noting that MTN Group is not active just in South Africa, but in 21 countries in the region, including Iran, Yemen, and Syria (which aren't even in Africa). So EZA is not necessarily a pure South Africa play.
Whether or not the fund's holdings all exclusively operate in South Africa is a bit besides the point, in a region that has registered steady growth and good long-term return on investment.
EZA: Inside Look at South Africa ETF has
(0) comments
Add Your Comment